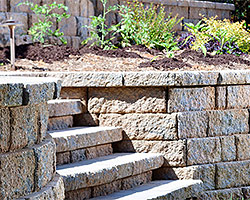 Anchor Diamond 10D
Classic Collection
Crafted with timeless quality, the Anchor Diamond® 10D retaining wall system brings a touch of elegance to every landscape design. Its versatility makes it ideal for curved, straight or terraced wall, as well as steps, corners, planters, and raised patios.
Specs
Multi Piece (5 7/8 X 9 X 6)
5 7/8 x 9 x 6
Multi Piece (11 7/8 X 9 X 6)
11 7/8 x 9 x 6
Diamond
17 3/4 x 9 x 6
XL Cap
16/12 x 13 x 3
Square foot varies depending on installation. All measurements are approximate.
Contact your local Belgard dealer for details.
Colors
Contact your local Belgard representative for available colors.
Patterns
No pattern information is available for this product.